With holiday cheer abounding, I thought I'd share with you different images, songs and events being celebrated and sung this year around the world.
So
HAPPY HANUKKAH, KWANZAA AND CHRISTMAS
- I hope you enjoy my "Holiday Wishes: Mash-up" and hope you can take the time to celebrate a little of each. Please leave your own holiday favorites and wishes in the comments.
Celebrating HANUKKAH:
As Hanukkah is the first of the holidays to occur this year (December 17-25, 2014) let's start with that.
A heads-up for any Hannukah grinches who aren't into songs, in this mash-up the first three videos are songs. The FOURTH is a very cool SCIENCE "miracle" from Israel's Technion. Enjoy:
First is a song-dance mash-up by Elliot Dvorin and the Key Tov Orchestra
Then there's Six13's Chanukah version of "Shake it Off:"
Here the Maccabeats tell us "All About That Neis (Miracle) - Hanukkah" a parody of "All About that Bass" originally performed by Meghan:
And from the Technion in Israel, a Hanukkah Message/Miracle:
Celebrating KWANZAA:
Sharing images for Kwanza 2014 was a bit more challenging for me as it is a community celebration from December 26-January 1.
Along with these images, I thought I'd share different community calendar events for Kwanzaa 2014:
Photo Credit: Kwanzaa Guide
Umoja=Unity,
Kujichagulia=Self Determination,
Ujima=Collect Work and Responsibility,
Ujamaa=Cooperative Economics,
Nia=Purpose,
Kuumba=Creativity and
Imani=Faith
The American Museum of Natural History will celebrate with the Tony Award winning tap virtuoso Savion Glover, Artistic Director of Yaffa Cultural Arts Linda Humes, Master drummer Sanga of the Valley, and the Eagle Academy of Young Men of Harlem - December 27, 2014. Click here for details: http://www.amnh.org/learn-teach/families/celebrate-culture/kwanzaa-2014-our-brightest-lights
The DuSable Museum of African American History (740 East 56th Place Chicago, Illinois) is hosting a seven day candle lighting celebration. Please check here for details: http://www.dusablemuseum.org/events/details/kwanzaa-candle-lighting-celebration
In Washington, D.C. Culture Capital.com is hosting a two-day celebration with Dance Place. For details please visit http://culturecapital.com/event/32860/kwanzaa-celebration-2014

Akron, Ohio is also hosting its annual Kwanzaa celebration.

For a list of each day of Kwanzaa and the corresponding celebration, click here.
There are many, many other venues and celebrations - you should check your local paper, community centers and news channel for detail.
Celebrating CHRISTMAS
:
I thought I'd spread cheer with some awesome trees and decorations from around the world:
Our first stop is Paris. Here we see an 82-foot Christmas tree, hung upside down in a shopping mall (along, of course with a light show that I wasn't able to find or link :-( my apologies).
Giant, upside-down Christmas tree in a Paris shopping mall.

(Photo: Chen Xiaowei / Xinhua / Corbis)
Our next stop is at the Freitas lagoon in Rio de Janeiro with its 279-foot floating Christmas tree (which also holds the Guinness World Record for highest floating tree). What's cool about this is that NOT only is it the tallest, it has some awesome lighting options:
The floating Christmas tree at Rodrigo de Freitas lagoon in Rio de Janeiro.

(Photo: YASUYOSHI CHIBA via Getty Images)
Yasuyoshi Chiba, AFP/Getty Images
Yasuyoshi Chiba, AFP/Getty Images
Yasuyoshi Chiba, AFP/Getty Images
Yasuyoshi Chiba, AFP/Getty Images
Amazing, isn't it....
all the same tree
!
Next stop, Byblos (north of Beirut) Lebanon, where their 97-foot Christmas tree is covered with 2,500 gold-colored iron leaves.
Wael Hamzeh/European Pressphoto Agency
And the Pitt Mall in Sydney Australia is hosting a tree made entirely of Lego pieces.
Photo by Dean Lewins/Eupropean PressPhoto Agency


Our next stop on our magical holiday tour is in Singapore where the tree (which from this angle looks more like a cake to me - although I mean no disrespect) features Doraemon, a Japanese manga character.
Edgar Su/Reuters
Our next stop... Honduras where another record was set: the world's biggest HUMAN Christmas tree that was formed last week by almost 3000 people.
The world's biggest human Christmas tree in Honduras.

(Photo: Xinhua / Corbis)
And, in Sydney Australia's Pitt Mall, here's a giant Leggos Christmas Tree
Finally, we end the tour in my neighborhood (or pretty close), New York City's Rockefeller Center Christmas tree. I's a 90-year old tree Norway Sprice donated by Dan and Rachel Sigafoos of Hemlock Township, PA and is decorated with 45,000 LED lights and crowned with a massive 9.5 foot Swarovski star. It will be on display through January 7, 2015.
Here's the tree in place before the lights, pomp and circumstance: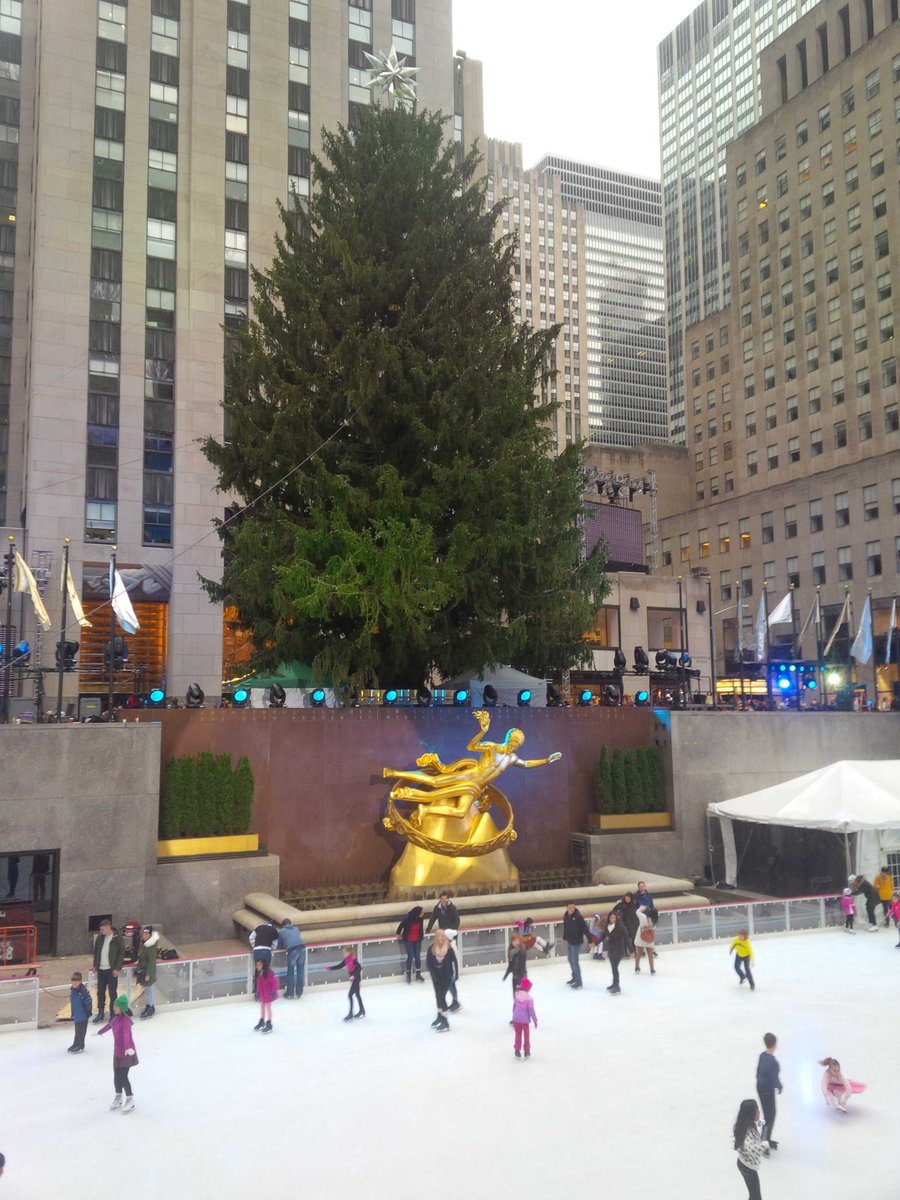 Here's the scaffolding put in place to decorate it: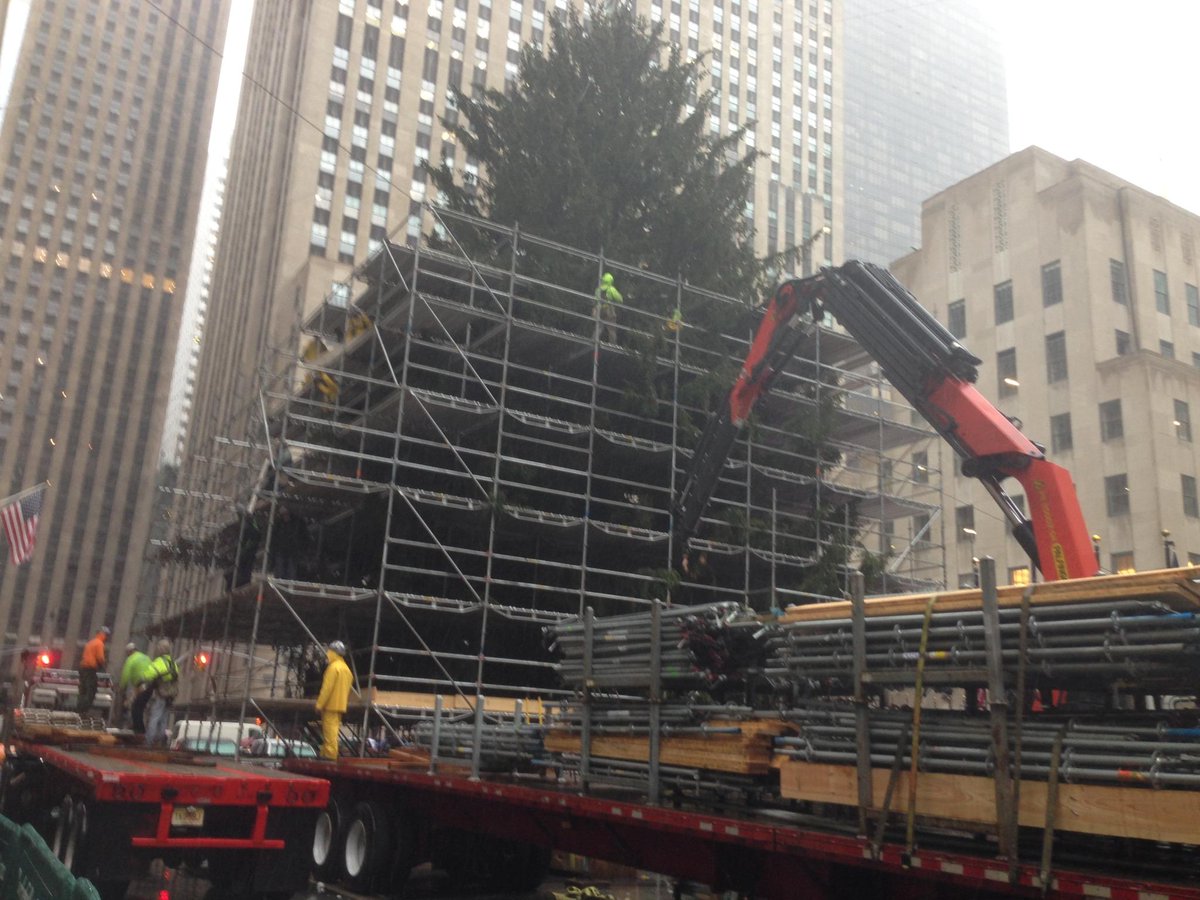 And here we see it from behind the promonade of angels (facing Fifth Avenue):
Getty Images
And finally, here we see it at the gala lighting ceremony :
AP Photo/Jason DeCrow
And for more, please check out over-the-top holiday links:

As always, thank you for your time and your visit.

Please leave your own holiday images, songs, links or favorites in the comments.
And...
Happy Holidays to you all!